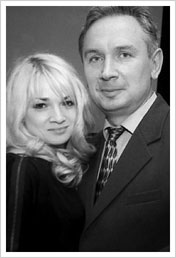 Maya Kurlyandchik's background is draped in art and fabric. At 14, the Lithuanian-born art student began fashioning custom clothing for clients and sold her own readymade dresses and winter coats. This experience, coupled with her talent and ambition, led to her acceptance at one of the most prestigious and competitive clothing design schools in Eastern Europe. There, she acquired a rich knowledge of textiles and their characteristics, and developed a detailed understanding of complex sewing machinery, graduating at the top of her class.
Transplanted to metro Detroit, Maya opened Window Fashions, a custom drapery and design workroom, with her husband, Yuly, in 1998. A perpetual entrepreneur with a background in construction and kitchen design, Yuly had also spent a number of years working for a longtime custom fabric-awning company in Detroit, where he worked in the art department. The transition from awnings to window treatments was seamless.
Today, the couple run Decoroom, a multi-faceted custom drapery workroom that also deals in art, accessories, and lighting inspired by old-world European design. The couple works closely on every project from conception to installation, injecting their creative backgrounds and expertise with extreme care and dedication. The result is a truly unique experience for both the client and the creators themselves.
Decoroom does not deal in average window dressings. None of their draperies are machine-made. Rather, each piece is meticulously handcrafted, Old World-style, ensuring the highest quality craftsmanship.
In addition to the custom drapery workroom in historic downtown Utica, visitors are encouraged to drop by the beautiful Decoroom showroom in the Michigan Design Center in Troy brimming with furniture, art, accessories, and other finishing touches for any design.